Does your hard surface or acrylic tennis court need cleaning and maintaining?
If you would rather spend time practicing and playing tennis … then Exterior House Cleaning Sydney will clean and maintain your tennis court for you.
… And that's an ACE for you because our tennis court cleaning service will ultimately keep your tennis court and its surrounding areas cleaner, safer and player ready for that winning game of tennis any-time and any-day of the week.
Picture this …
With a clean and maintained tennis court all that will be left for you to do is ask …
ANYONE FOR TENNIS?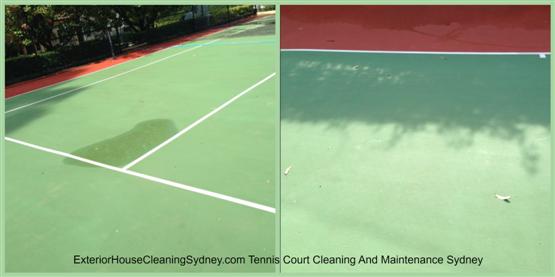 Exterior House Cleaning Sydney's tennis court cleaning and maintenance service is also suitable for:
School, club and council tennis, netball and basketball sports courts.
For an obligation free quote for tennis court cleaning and maintenance prices and costs. Call Peter on 0410 630 443 or simply use this easy online form.
Exterior House Cleaning Sydney can also take care of your: